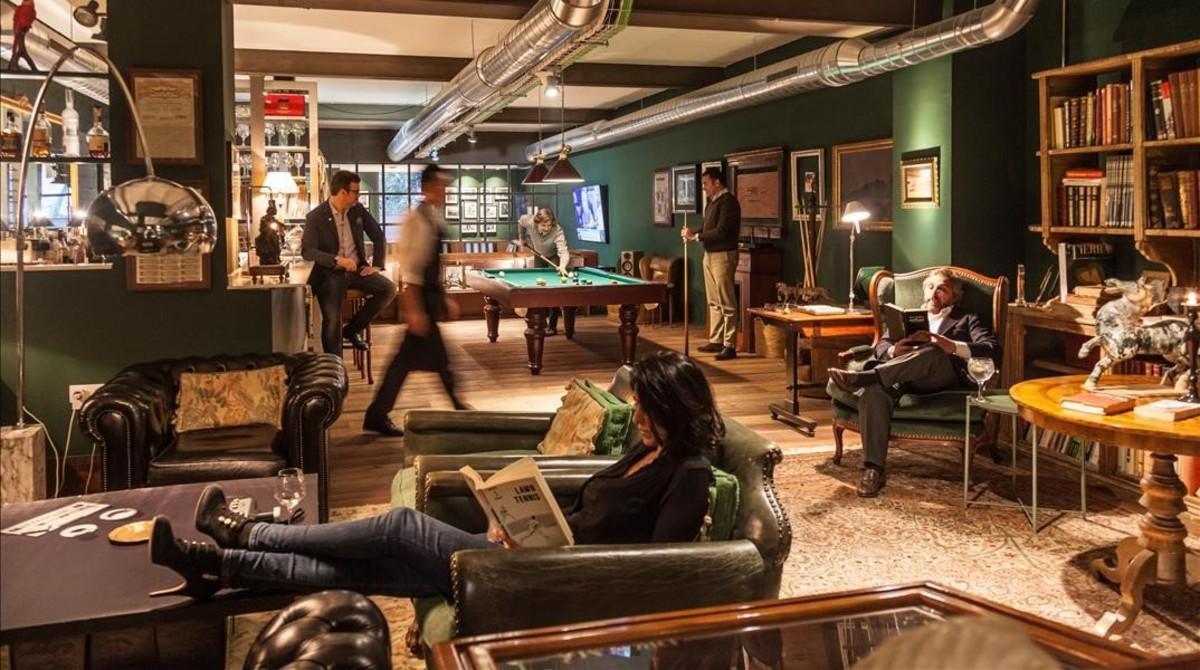 Large businesses, of the present or of the future, often require a trigger or a signature far from the formality of an office. In a relaxed atmosphere, synergies usually arise that will lead to financial agreements or the launch, for example, of a start up revolutionary or entrepreneurial idea. They know it especially in London, where the private clubs they have been the lubricant of social and economic relationships for decades. No public bars, but similar spaces but only for members and their (many) guests, where they can relax with greater confidence at any time. A formula with little tradition in Barcelona So what now it starts to expand.
In the Catalan capital, the Equestrian Circle is a reference (1856) of exclusive association of professionals where its members combine business and leisure, fostering business relationships at a high level. However, it is governed by certain formal access requirements (both in terms of trajectory and aesthetics to attend their meetings), with which the new clubs are more flexible. In October 2016, the opening of the Soho House Hotel brought a new club, where the fundamental requirement was not power or money, but to be linked to the creative industry. There they take place between 50 and 60 monthly activities (from movie previews to workshops arts, talks and live music, in addition to its gym) that promote the most influential interaction among its members (and guests) with an annual fee of about 1,500 euros.
The new twist is now given by two new spaces that open up this thriving framework of networking,. A trend that is also making its way into other large European cities, but which in Spain is beginning to filter through from Barcelona.
In the middle of Balmes
In April it will open its doors Hedges Club (now filming and recruiting members), a private club with a name that was an institution in the United Kingdom -Hedges & Butler, where from rock stars to the princes of Wales coincided- and which began its European expansion, aspiring to be a refuge for local businessmen and artists, as well as celebrities passing through the city. Its promoter and CEO, Youcef Aden, wants to be the ambassador of that London club spirit in the Catalan capital. The chosen space is located in Balmes, 220 (above Diagonal), in an eclectic space open to the members that he selects personally or with the help of his already honorary members. There they talk about projects and alliances, but hardly about politics.
During its gestation, it has recruited about 250 partners (men and women), essentially from the business, managerial and artistic fields (from literature to communication), who will be around 400 when fully operational. The place has a first area designed for business meetings, although from a London phone booth version 2.0 it is forbidden to use mobile devices and the Internet in the Burlington area, with a clear British spirit. In this way, an intimacy is preserved that favors agreements and professional contacts, which can be happily topped (if you like) in a fascinating bar designed by Mexican artist Ricardo Guillén.
But the Hedges is not a leisure club (entry is very selective), rather it pursues the holy trinity of "work, negotiate and celebrate", so there is no lack of wifi, printer, scanner, photocopier, monitors, USB, consulting and accounting services … all in a chic environment and from eight in the morning to three in the morning, from Monday to Friday and eventually on the weekend. After being admitted, the monthly fee is 75 euros and includes a bottle of champagne per month. Inside, you can have any premium drink and have breakfast from eggs Benedict to crepes, as well as lunch or dinner a repertoire of dishes that emphasize the product and the presentation (creams, salads and, above all, wagyu meat). The relaxed service conveys the feeling of being at home. It will also host special events.
True to its founding spirit, the club wants to give wings to the female presence, so it is preparing the opening of an adjoining space with a daytime area and a women's club schedule with a symbolic fee of 10 euros per month.
Small format
Not too far down the street from Espinoi, between Sant Gervasi and Putxet, a unique space has emerged promoted by the businessman and sports consultant Uri Good, which although it is also a "business and social club in style British", only for partners and friends, has a smaller and perhaps more relaxed format. Inspired by the British lobes of the 18th century, The Wild Bunch ('Wild group'; tribute to western Twilight of Saint Peckinpah) is a seductive space wrapped in dark green and British paintings that has been dressed with black chester sofas, traditional furniture, billiards, large TV screen, library with incunabula, cigar counter (recovered from the old Drolma), fantastic bar counter, smoking terrace, butler service … and other claims.
They select calmly and have not yet reached the fifty members, with the ceiling of a hundred, after a personal interview with Bueno, who has his professional office there. He only aspires to attract "normal" people to his club and that they tune in to each other –private fee of 100 euros or business 300-, and also offers three professional offices at affordable prices and rental of space for meetings and presentations.
Related news
Doing business between generations and fields (from lawyers to designers and entrepreneurs) is feasible in the most orthodox way, or within the framework of their gastronomic evenings (from 4 to 50 diners) and their departures, whether to the coast or to the F1 circuit. A great photo of Maradona and a replica of the World Cup remind us that this is also sports territory and that in matches to watch football you can scream loudly without restriction, points out its creator. At the moment the female members are 10%, so they are feeding events that make way for more women to share business and also gatherings without end.
The tradition of English clubs
This type of private association was born in the 18th century , mostly in London's West End and initially only for upper-class gentlemen. Later it was extending its mantle to the upper-middle classes, although with strict conditions for membership. In the last decades the concept is still alive but much more open; They are private but each member can bring guests, and celebrities are accepted for occasional visits. They are a benchmark in business and social relations, but with a hedonistic component: they serve premium drinks and they usually eat well. The appropriate social environment is guaranteed, they stand out, without the presence of clientele that does not fit the style or environment, or prostitution. However, many have notorious parties that can attract anything from Mick Jagger or Beyoncé to the wayward Prince Harry.
.
Many Thanks To The following Website For This Valuable Content.
English-style clubs take off in Barcelona