To soak up the experiences and worlds of others, an actor turns to those who have gone through experiences similar to those in the fiction he will play. Sometimes the exercise works, but nothing ensures that anyone will open up to a stranger, even if it is a world star.
From Atlanta, Tom Holland (24) tells his version of his mixed luck when talking with American war veterans before embodying his last role. "Some people were very open and you were very willing to share," he says by video call. Others were very closed and didn't want to tell Spider-Man about their lives and challenges. I just wanted to make sure I make them proud, tell this story and represent them in a positive way, "he tells Culto and an international media group.
About to turn 20 years old, the British actor stormed in 2016 as the youngest Peter Parker / Spider-Man in cinema, in Captain America: Civil War. Now, after accumulating five films (and being in preparation for the sixth) in charge of interpreting the character, being so associated with the Marvel superhero can become an obstacle. Although also, in light of his words, in an impulse to dare to play roles that not any actor of his age would be willing to accept.
The young man who rose to fame alongside Naomi Watts and Ewan McGregor in The impossible (2012) last year added the leading role of The devil at all hours, by director Antonio Campos and available on Netflix. A true tragedy set in the deep United States between the 50s and 60s in which his character dealt with the demons of his family and environment.
Although Cherry he flirts with the sinister to a lesser extent, his new role coexists with drama almost daily. At the beginning of the story, in 2008, the protagonist is a young student who meets a girl with whom he falls in love (Ciara Bravo), but then the disaster begins, with the departure to the Iraq war, the appearance of the disorder of Post-traumatic stress disorder, a drug addiction, and the fame he earns as a bank robber.
The film based on the novel by Nico Walker opens on March 12 on the Apple TV + platform, but the actor's latest artistic twist has already unleashed discomfort: his mother would have been "furious" when she saw a clip of the film, according to her Holland himself to Esquire.
Now, although she says that "my mother was only worried about her little boy, which is very natural," an additional question also arises, typical of a megastar with fans all over the world, many times younger than the age limit. with which it loads a title like Cherry.
"I think there will be people, especially some of my fans, who will be amazed by this movie and the portrait of PTSD and addiction. But I hope that people can see it as a performance, instead of me being an addict, "he says.
-It is possible to empathize with your characters in The devil at all hours and Cherry, but they are far from representing the same as Peter Parker. What do you discover about yourself as an actor as you play these darker roles?
I think you learn to realize that these darker emotions exist within you, and you have to make sure that you only let them out when you are playing the character, and that your real life is guided by day-to-day emotions. But I found that I was more capable than I thought. When I agreed to make this film, I was very nervous about playing a character like this. And then when we finished and I saw the movie, I was just as proud of it. It gave me a great sense of confidence in my acting abilities.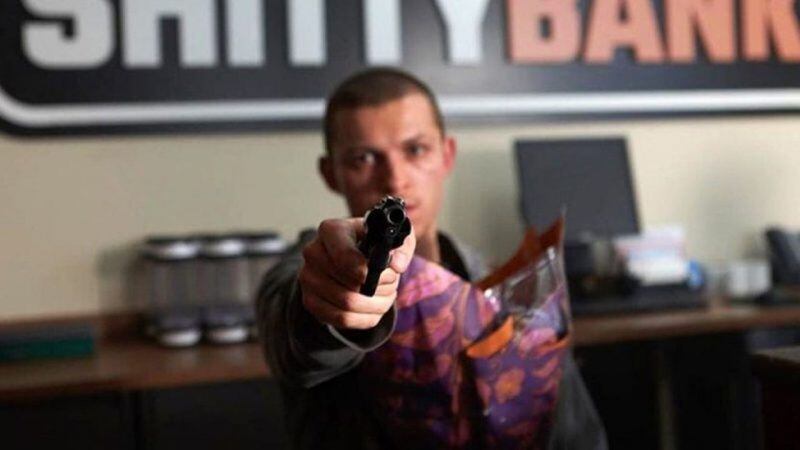 Also, it counts, its role in Cherry It allowed him to project ideas that he generally doesn't have when he's busy filming the world's biggest blockbusters. "I think people often look at people who are addicted and wonder, 'Why don't you stop using drugs? The drugs are clearly killing you, why don't you stop using them? ' It is not as simple as that, it is a disease. And I really hope that people who see this movie learn to sympathize and are more open to helping people who suffer from this kind of thing. "
On the set of Cherry, Tom Holland was supported at all times by Anthony and Joe Russo, the filmmaker brothers who chose him for the role of Spider-Man and who last directed him in Avengers: Endgame (2019). With them, he says, he would meet for dinner at the end of each recording day. He also spent his free time playing golf, one of his favorite hobbies when he's not on set or promoting one of his premieres.
"For us it was important to make sure we had fun and maintain a level of lightness, because otherwise, you get too deep into these characters and I think you go too far and you can't go back," says the actor, along with celebrating his most recent collaboration with the directors: "It was really good meeting them on a much more personal level. On Avengers I was a very small car in a very large machine. And in this film I am the engine and they are the steering wheel ".
While the filmmakers brothers do not plan a return to Marvel films for now, Holland gives this interview from the filming of Spider-Man: No way home, the character's third solo film starring him (scheduled to debut at Christmas). In fact, hours later, along with his castmates Zendaya and Jacob Batalon, they played on their social networks with three possible titles of the film, before revealing the final one the next day.
It's the kind of promotion movement that the version of Peter Parker is good at having already created the actor's own image, more spontaneous than the bulk of Hollywood stars. A harmony that could be close to ending.
The blockbuster, by contract, is Holland's last solo film as the superhero, but the actor has expressed his desire to continue playing the role. A responsibility that would have to be made compatible with the eventual franchise that is built around the adaptation of the video game Uncharted, whose first film finished shooting in late 2020 alongside Mark Wahlberg. Also, by the way, with any further attempts to once again demand his dramatic rank.
-What importance do you give to the protagonist of Cherry?
I think this is a very important role for me and my career. It is a turning point, it is a step in the direction that I hope my career will go in the future. I really wanted to get this right, because I wanted to prove myself, the business … You know, I love being Spider-Man, and as I play it it's the best time of my life, but there's more to do than shooting cobwebs at people. So I really recognized how amazing this opportunity was, and I wanted to do the best I could. Looking back, I am truly delighted to have accepted the challenge.
Holland, a kind of 24-year veteran actor, prefers to go step by step in his aspiration to explore new directions. "I'm not trying to overthink what's next. I'm just trying to go one day at a time. We are filming Spider-Man 3 right now, and it's very challenging, but it's going really well, so I'm focusing on that. And like I said, one day at a time ", he closes.
Many Thanks To The following Website For This Valuable Content.
Tom Holland: "I love being Spider-Man, but there's more to do than shooting cobwebs at people"