As every season, we come across pieces that, being essential, many classify them in the niche of garments without grace that turn out to be a total cliché, however, we do not deny that knowing how to turn them around, we are surprised that they will be part of a must-have look for the season, as with plaid shirts in autumn, And it is that many see them as a worn-out resource to which we gladly surrender to achieve a great style by betting on this selection that will give a new look to your outfits.
Hipsters? Yes, maybe a little, but never out of fashion, and the plaid shirt that was once adopted by guys with tattooed arms who held their Starbucks while listening to Mumford and Sons, it has always been a benchmark piece in the men's wardrobe, and here the tests (and options) you need to wear it in style.
Black and White Bandana Detail Shirt by Mennace
Merging two inspirations into one, this Mennace plaid shirt in black and white add an urban detail on the back with the bandana print that goes perfectly with your Converse looks and skinny jeans. You find it available for 69.99 euros.
Mennace Flannel Back Paisley Panel Oversized Black Shirt
Red and Black Check Shirt by H&M
A garment that should be in your closet yes or yes, since when accompanied by jeans, it creates an easy look to wear this season. H & M's bet on this flannel shirt is on large squares, which makes the color more striking and, by default, the point of attention of your combinations. You find it available for 19.99 euros.
Plaid shirt in soft cotton flannel with English collar, classic placket and back yoke.
Green Coast Gray and Black Check Shirt
If you want to go for a more urban inspiration, this gray and black piece is what your outfit needs to camouflage and succeed on the asphalt, and you can combine it with jackets, parkas and coats of the same tone to achieve a perfect monochrome look. You find it reduced from 29.99 to 11.99 euros.
Men's Slim Fit Gray Plaid Flannel Shirt
New Look check shirt in rust tone
Brown tones also have a place in this list, and it is that they have become an infallible color with which we can achieve great combinations of both outdoor garments like coats and cardigans, like leather footwear, and this shirt perfectly encapsulates that functionality. You find it available for 20.99 euros.
New Look rust check long sleeve shirt
Bershka two tone check shirt
And taking the trend of contrast to another level, we have this two-tone shirt with which Bershka makes black and white be the total protagonist of our looks, and it is that you wear it with what you wear it, it will always stand out above any piece. You find it available for 29.99 euros.
Two-tone oversized checkered overshirt
Yellow and Black Check Shirt by Jack & Jones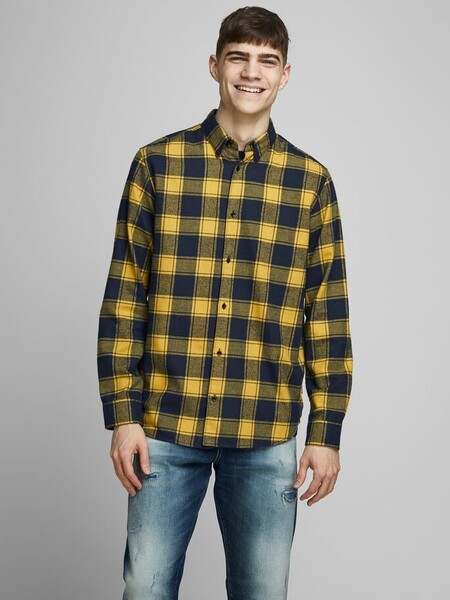 To bet on the warm tones that work as a link between summer and autumn, we got this yellow Jack & Jones plaid shirt that we can complement with woven accessories late in the season, such as knitted hats and scarves. You find it reduced from 20 to 14.95 euros.
Checked comfort fit shirt
Images | Unsplash | Courtesy of brands
Note: some of the links posted here are from affiliates. Despite this, none of the articles mentioned have been proposed by either the brands or the stores, their introduction being a unique decision of the team of editors.
Many Thanks To The following Website For This Valuable Content.
We give in to the lumberjack style with these plaid shirts to wear now and all fall.