Ask someone to name a song that always has the power to make you cry, and they will most likely immediately reply "Hurt.". We know that the original version of Nine Inch Nails is very intense and excellent, However, what Johnny Cash achieved with his cover gave it a totally different meaning. to what Trent Reznor wanted to convey on the album The Downward Spiral 1994.
At first, Reznor admitted that he was initially flattered but at the same time concerned by the idea that it was a "commercial" version, however, although upon hearing the song for the first time, he acknowledged that he was very excited. Johnny Cash was at a time when he wanted to revive his career, so from the hand of the great producer Rick Rubin, he began to record a series of albums where he covered important bands such as The Beatles, Depeche Mode, Metallica and more.
For the fourth volume of these albums, Rubin recommended that Cash record "Hurt" and he did.. Only an acoustic guitar together with a piano accompanied the worn and melancholic voice of Johnny, who throughout all those years had fought against his own demons. The result was a song in which the country legend made a strange confession about his life..
At that time the videos were in full swing, So when he found out that he was recording this song, director Mark Romanek desperately asked Rubin to let him record a video clip with Johnny because he had fallen in love with the performance.So much so that he even offered to record the video for free. After many negotiations, the label accepted although now it faced another obstacle, the time.
During those years, the singer was 71 and unwilling to linger in the cold Tennessee weather so the original idea was scrapped. Immediately, Romanek hopped on a plane to Tennessee and began searching for locations. until he reached the perfect place, Cash's house, which was a museum at the time. In there, where Johny lived a good part of his life although it was not the home he thought he remembered.
Due to a lot of situations, had been closed for a long time. According to the director: "The place was in a total state of neglect. It was then that the thought occurred to me that maybe we could be extremely honest about Johnny's state of health – as honest as Johnny has always been in his songs. ". With the museum's closed sign and amid cracked platinum records, a lone lobster and caviar feast, clips from the early years of his career and as a finishing touch, his wife June, the video was finished shooting.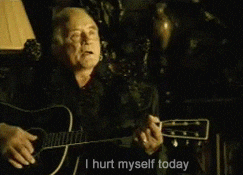 That idea that came from seeing the decline of Cash's museum would end up becoming a heartbreaking music video that spoke of the fragility of life, the gracelessness of death, the transience of time and the fall of a genre, an era and an attitude. The impact was so much that Rick Rubin himself confessed that he cried the first time he saw him and even congratulated the director for achieving such a level of emotion in just four minutes.
Unfortunately for Johnny, the worst was yet to come. A few weeks after the video was shot June Carter, his wife, best friend and partner died, causing the sadness as well as the symptoms of diabetes to attack him immediately. Four months later, the great Johnny Cash left this world, although he left us a huge musical legacy through almost 50 years of career, which could easily be summarized with the cover and video of "Hurt".
Trent Reznor had to accept that, even though he had composed "Hurt", Johnny Cash with his version had taken it from him. In an interview that the Nine Inch Nails mastermind gave years after the country singer's death he said that that song was no longer his and that he felt as if the legendary musician had taken a girlfriend from him because that song was no longer his.
In the end, Johnny Cash took that great band song and made it his own. He transformed the meaning of the lyrics that originally spoke about addictions and turned it into a personal life mantra, into a song that thanks to the video gave meaning to his legend, showing everything he had to go through to become the man in black . No matter how many times he fell and got up, we are sure that Johhny Cash always stayed true to who he was and with this song he showed it.
Many Thanks To The following Website For This Valuable Content.
The Nine Inch Nails song that Johnny Cash made his own