When on February 28, 1986 the international press published that Wham! was separated, it was not through an official statement. Indeed, George Michael and Andrew Ridgeley had made the decision to separate that year, and for that reason they did not deny it. They both agreed amicably that they would undo the duo simply because they didn't want to be phonies. The final chapter of his story was written four months later, on June 28, with a historic concert at Wembley Stadium.
A brief review of the Wham! Phenomenon
It was in September 1975 when George Michael and Andrew Ridgeley met at school. They were 12 years old and they became fast friends. They shared their musical tastes for David Bowie and Elton John. Six years after their first meeting at Bushey Meads School, they formed Wham !. They performed a home demo that they had made in 10 minutes, in Andrew's room, and signed to Innervision Records.
They decided to call themselves Wham! out of the need to look for "something that captured the essence of what differentiated us… it was concise, immediate, fun and also boisterous," said Ridgeley. And adding the exclamation point was done by the graphic design studio Stylorouge.
Although Wham! It only lasted five years (from 1981 to 1986) its record sales exceeded 30 million copies worldwide. And the most surprising thing is that those impressive sales corresponded to the only three studio albums they had released in a very short space of time: Fantastic (1983), Make It Big (1984) and Music from the edge of heaven (1986).
Careless whisper, I'm your man, Everything she wants, Club Tropicana, Wake me up before you go go, Last Christmas O Freedom are some of the timeless hits that Wham! left us, Melodies that embraced a youthful spirit, with catchy refrains and syrupy melodies. Wham! It was the first western group to tour China in 1985.
"It must be stopped before it really becomes a 'fake'"
George Michael was the catalyst for the end of Wham !. At 23, he wanted to get away from the duo, focused on a teenage audience. He wanted to write more mature and elaborate music for an older audience: "to convey more honest emotions, creating songs with which people could relate to."
The English musician explained the reasons for the dissolution in an interview with 'Rock! 1986 Magazine ': "Wham! it has always meant young and vibrant, it's not that we don't want to keep making records … but I won't be 18 anymore, Andrew won't be 18 again, and gradually, as we got older, all of this started to turn into something. more and more forced. I think the time has come to stop it before it really becomes a 'fake' ".
Subsequently, Michael once disavowed his image in the Wham! Years. In 1988, he confessed how uncomfortable he felt in white shorts and those earrings: "It was such a feminine look! When he looked back and I look like this, I feel so disgustingly ashamed! I recently saw a clip of (Wake me up before you) Go-Go And I thought 'What the fuck is this?' What the hell was he trying to prove? ' I'll never know for sure who in the audience wore that look. "
wham! and 1983 / Mirrorpix (Getty Images)
"The friendliest break-up in pop history"
At the time of their separation, many fans believed that there was bad vibes between George and Andrew. Articles were even published suggesting that this could be the reason for the breakup. But it was not the case. Michael rejected it completely: "I think it was the friendliest breakup in pop history." He made it clear that the end of the band was due to artistic reasons, and that those false rumors had been caused by his former manager. "Basically, there was no disagreement between us."
The advance announcement of the separation
When the separation from Wham! Was made public at the end of February 1986, there was no official statement. Although it is true that George had recounted it in passing on the talk show Aspel & Company: "I was at home when the story of the separation came out publicly. The truth is that I had only said it once before, and I don't know if people really believed me. The only official statement I sent to the media was that of my break with the manager. At the time, Andrew had not made the decision to part ways with Nomis Management. It seemed as if we were the ones separating. The press turned it around and from there came the story of our separation ", clarified Michael in 'Rock! Magazine '.
Wham! He did nothing to deny it because the decision to separate had already been made: "We just thought it didn't make sense for people to think that we were going to continue indefinitely. We were really only going to continue for another six months. "
Goodbye at Wembley: "The most important day of my life"
On June 28, 1986, the band gave their last concert at London's Wembley Stadium. That historic goodbye to the 72,000 people who packed the venue, lasted for eight hours. Among the guests at the event were Elton John and Simon Le Bon (Duran Duran).
At the end of the performance, the two hugged. They thus showed that the band was having a happy ending. For George Michael, that last performance with Wham !, was "the most important day of my life."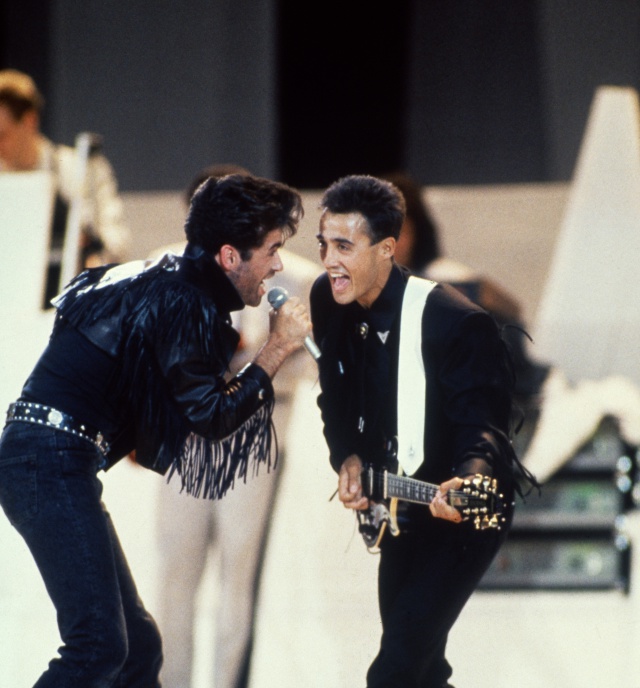 Wham! on stage at Wembley Stadium at his last concert / Michael Putland (Getty Images)
Eight months of depression … and liberation
George Michael revealed that after the breakup of Wham! he was depressed for 8 months. He felt that "he would never know who he was again." And he added: "The problem was that I myself had created a character for the outside world that was not me. He had to constantly be dealing with people. So I made the decision to get rid of that character and become someone more real. " And he got it.
And in the years that followed, Georgios Kyriacos Panayiotou also felt more liberated. In January 1990, in an interview for 'Q Magazine', he revealed: "Everything that Wham! it occupied the first pages, we were all the time on television. Now, there are a lot of people who don't recognize me, as simple as that. And it is magnificent. I can go for a walk with the dog, put on a hat, and people think 'it could be him…' ".
Many Thanks To The following Website For This Valuable Content.
George Michael: "The Wham! it was the friendliest in pop history "| LOS40 Classic