Grace Jones is one of the great icons of pop music. A unique, free, unprejudiced artist, who has had an obvious impact not only on many artists, but also on the LGTBI community. Unafraid of exploring his masculine side and playing with ambiguity, Jones is a living history of music.
May 19 is his birthday, and in this 2021 Grace Jones turns 73 years old. It is a good time to claim it, and we do it by rescuing the interview that it granted to Shangay on 2008, when he released his last album to date, Hurricane, the first he edited with original material in two decades. An opportunity to enjoy the free speech of a unique artist.
---
SHANGAY Are you enjoying the interest that the album that marks your return to current music is awakening?
GRACE JONES ⇒ A lot, because I love the album I'm presenting, an album that was born accidentally. I recorded the song Devil in my Life as a simple collaboration for a project album called Biomechanics, in which it was Ivor Guest, who ended up being a co-producer of Hurricane. The group disbanded before finishing their album, and Ivor and I decided to work on a project of mine, recovering songs that I composed nineteen years ago and composing new ones. We got enough for two albums, but we focused on one. When it was finished I thought, "I'm going to run for president with this album!" [risas]. And so I am, in the middle of the campaign …
SHANGAY It is not usual for an artist of your prestige and experience to embark on such an intense promotional campaign …
GRACE JONES ⇒ If I do, it is because I am proud of my album. There are people who have the courage to promote very bad records; I would never do it. Because I am so happy with my work, I enjoy making it known. And more that I am going to enjoy when I present it live.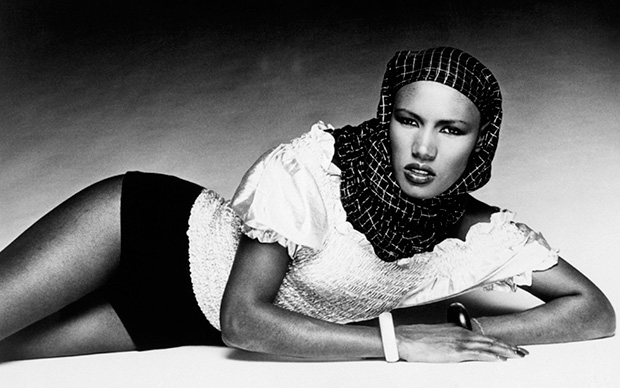 SHANGAY Will it be an extensive tour?
GRACE JONES ⇒ Quite a bit. We start in Australia in a few days and I will continue until the end of January in England. And in March we will start with the rest of Europe.
SHANGAY Will you offer a great show with a lot of tricks, a la Madonna?
GRACE JONES ⇒ No, it will have nothing to do with what Madonna does, it will be Grace Jones style! Mine is, as it always was, performance art. Everything revolves around me and my voice, and I am accompanied by a great band. I have never had a better voice, so I intend to sing like never before. Nothing of playback [risas].
---
"TODAY EVERYONE IS AN ICON OR A LEGEND, THEY ARE TOO TRENDY TERMS"
---
SHANGAY In the UK you expressly requested that you wanted to dedicate a promotional day for gay press, and you have also agreed to this interview, although technically you are completely focused on your essays. Why these facilities?
GRACE JONES ⇒ Because many gays have been supporting me since the beginning of my career; It seems normal to me to have some detail with them. So I take the opportunity to make my fidelity to the gay scene clear: if I go out at night, you will always see me in a gay disco. Not only because everyone has fun in them, but because they also give me carte blanche to do so.
SHANGAY Do you enjoy being the center of attention for your audience?
GRACE JONES ⇒ It's just something I'm used to. I grew up in a very religious environment, there are many priests in my family, and they taught me that I had to be an example for others with everything I did in life. I have always hated that notion, and although I accept that I attract attention, I just hope that at this point I am not an example for anyone. I don't want to be!
SHANGAY Is it hard to constantly hear that you are an 'icon' and a 'legend'?
GRACE JONES ⇒ These are words that I don't pay attention to; I think they should only be used to refer to you once you've died, so you don't have to listen to them. Nowadays it seems that everyone is an icon or a legend, these are terms that are used too easily: they are trendy. I don't like what trendy.
---
"MANY GAYS HAVE BEEN SUPPORTING ME SINCE THE BEGINNING OF MY CAREER, IT IS NORMAL THAT I HAVE SOME DETAIL WITH THEM"

---
SHANGAY What do you think that artists like Beyoncé are already considered icons?
GRACE JONES ⇒ Excessive, obviously. But I'll tell you that I like Beyoncé as a person. I've talked to her a couple of times, because she goes to the church where my brother preaches, in California. She is a very spiritual girl, and I like that.
SHANGAY Have you had many icons that you have admired throughout your life?
GRACE JONES ⇒ Of course. Marlene Dietrich, Greta Garbo, Bette Davis, Joan Crawford, Nina Simone…, Artists with a unique style. And there are many more … What is the name of this black artist …? One that triumphed in the Paris of the 20s … Sorry, I have not smoked weed but right now my memory is not working well, too much information stored [risas]. Do you remember that artist who performed with a skirt decorated with bananas? That's it, Josephine Baker, Thank you! And I can think of many more names: Humphrey Bogart, Clark Gable, Isaac Hayes, Helmut Newton, Andy Warhol… The list is endless.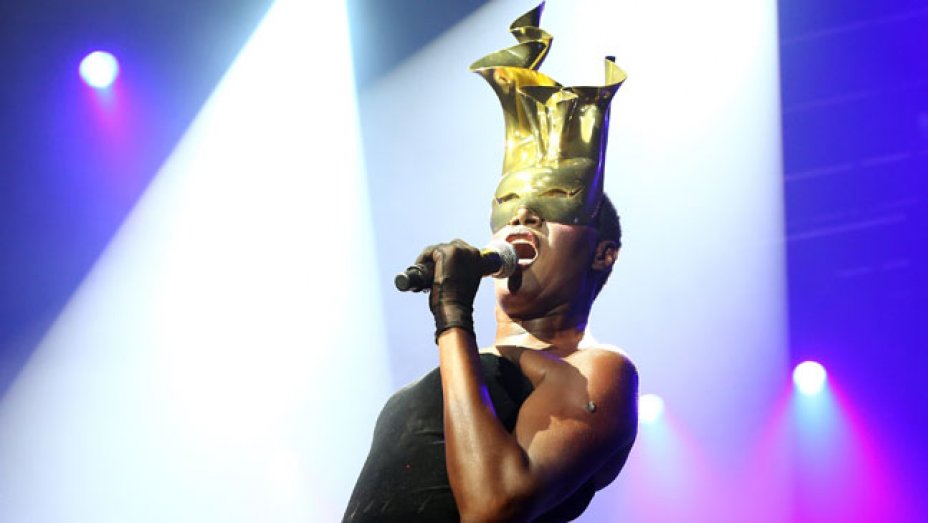 SHANGAY We expected a brutally eye-catching cover for Hurricane and we find chocolate molds of your head in it. What does a chocolate Grace Jones taste like?
GRACE JONES ⇒ [Risas] It tastes very intense! It was idea of Banksy [artista británico cuyos grafitis callejeros valen su peso en oro] that the entire photo shoot for the album took place in a chocolate factory. Well, you don't know the high that all of us involved in the photos got. Because the chocolate had a very strong smell, and it gave you an incredible high.
I looked around while posing and saw everyone smiling, it was hilarious. And the truth is that the image that ended up on the cover had to have been on the back cover. Can you believe that we forgot to take the photo that we had planned as the central image of the album? Well it was.
SHANGAY You have always surrounded yourself with great artists to develop each project. Now he is Banksy as he was, for example, the photographer Jean-Paul Goude. Together you created unforgettable images while challenging stereotypes related to gender and race …
GRACE JONES ⇒ I know. And do you know that we worked together again a few weeks ago? It has been an incredible experience, we have always known how to give each other feedback in search of the best result. And Jean-Paul has loved my album, too. This time we have done a report for an American magazine in which I will appear naked devouring myself [explota a reír].
SHANGAY A new taboo that you will tear down, because it is not usual for an artist your age to be happily naked …
GRACE JONES ⇒ Why not do it? In his day I went through a stage as a nudist hippy, and something stayed with me forever. From time to time it is healthy to do without clothes and show yourself as you are; I feel very comfortable doing it. And what difference does it make how old he is? I see naked women on the beaches of Ibiza in their eighties or nineties and I am not shocked. Luckily, I have great skin and I can afford it.
---
"I HAVE NEVER HAD OWN DEMANDS OF A DIVA!"

---
SHANGAY Have you needed to resort to cosmetic surgery at some point?
GRACE JONES ⇒ I would never let anyone put a needle or scalpel on me for cosmetic reasons, nothing like that! Many people I know who have had surgery I find it difficult to recognize, they look like amphibians out of a science fiction movie. I want to age naturally, and thankfully I have been blessed with great genetics. My father died a few months ago at eighty-four years old without a wrinkle on his face, and my mother is in her eighties and does not even have strong lines of expression. I am going the same way.
SHANGAY As you also dress so well, even better …
GRACE JONES ⇒ Fashion is another of the pillars of my personality as an artist. And I plan to take advantage of the fact that I have been able to sew since I was a child, so I will soon launch my own clothing collection, with which I intend to raise money for the fight against AIDS. Will be called Grace Aids Art. For that reason, I recently had to deny Dolce & Gabbana permission to use images of me on a series of T-shirts. I need those images for my own line!
SHANGAY On Hurricane You show two profiles, the fierce one that you have used to and one more fragile in cuts like I'm Crying (Mother's Tears). Is it a good time to show that you are not as tough and self-sufficient as you seem?
GRACE JONES ⇒ It is not the first time that I show my softer side, I had already done it before in songs like I've Done It Again, I don't remember which disk it is on [Nightclubbing]. But it is true that this time I show it in a more intense way, in Williams' Blood and Mother's Tears. I like to cultivate the versatility that my voice gives me. So don't be surprised if I include operatic themes on my next album …
SHANGAY Will you ever make dance music again?
GRACE JONES ⇒ I believe that all my music can be danced. Although I admit that now I am more attracted to cultivating my Jamaican streak. Still, there are things in sight. Have you heard the Airplane Mix of Williams' Blood? Well, there are more remixes planned for future singles.
---
"I WANT TO AGE NATURALLY, AND LUCKY I HAVE BEEN BLESSED WITH GREAT GENETICS"
---
SHANGAY Will your demands for the new tour be as bizarre and excessive as they have always been rumored to be?
GRACE JONES ⇒ I have never had demands of a diva! [risas]. I have never included unnecessary follies in my riders, I find it curious that rumor spread. The only thing I always demand in my dressing room is raw fish, because it is well digested, and oysters, a lot of oysters, because they give me energy for concerts. And champagne, of course. Not only to drink it myself, but also to share it with the guests who come to greet me after the shows. Although in the end I always take a bottle to the hotel for my personal enjoyment …
What are these strange requests? If I had oysters brought to me from out of the country when it is not in season I would understand, but I would never do anything like that. If it is difficult to get them, I order sashimi and that's it. As for champagne, I've always drank Cristal, long before rappers made it synonymous with 'bling'. A concept that doesn't interest me at all, sorry.
SHANGAY Doesn't the current celebrity culture catch your attention?
GRACE JONES ⇒ No, the 'bling universe' exudes bad taste. I adore authentic glamor. That is why you will see that for my current look I use masks of Philip Treacy and designs of Issey Miyake O Azzedine Alaïa. Neither my audience nor I deserve less.
Many Thanks To The following Website For This Valuable Content.
Grace Jones, exclusively for Shangay: "What difference does it make how old I am?"