They say that she is the highest paid actress in the United States. Another "sex symbol" of recent times, considered by the magazine Esquire for the second time "the sexiest woman" in the world. At thirty-six Scarlett Johansson can boast of a varied filmography. She failed in her first two marriages but now with her third husband she seems to have found the perfect match. Make sure you are pregnant. It would be his second child as he has a girl from a previous union.
Scarlett, born in Manhattan, New York, was one of those girls who her mother pushed to be a child model, with the intention of later succeeding in the movies, which she had not achieved. Very young, he appeared in fashion magazines wearing creations by Dolce & Gabbana, Calvin Klein and other relevant firms. His appearance in the movie Lost in Translation It was a success to make her known by showing her spectacular butt. The starting point for those who in successive screen appearances would enhance their impressive physique. The list of his best known films are, among others: Under the Skin, Lucy, Match Point, Vicky Cristina Barcelona, Historia de un matrimonio, Jojo Rabbit… Woody Allen directed her in three feature films. For him, Scarlett only finds praise, defends him tooth and nail, and so on. He supported him publicly a year or so ago when they continued to accuse him of abuse sex with a minor, his daughter.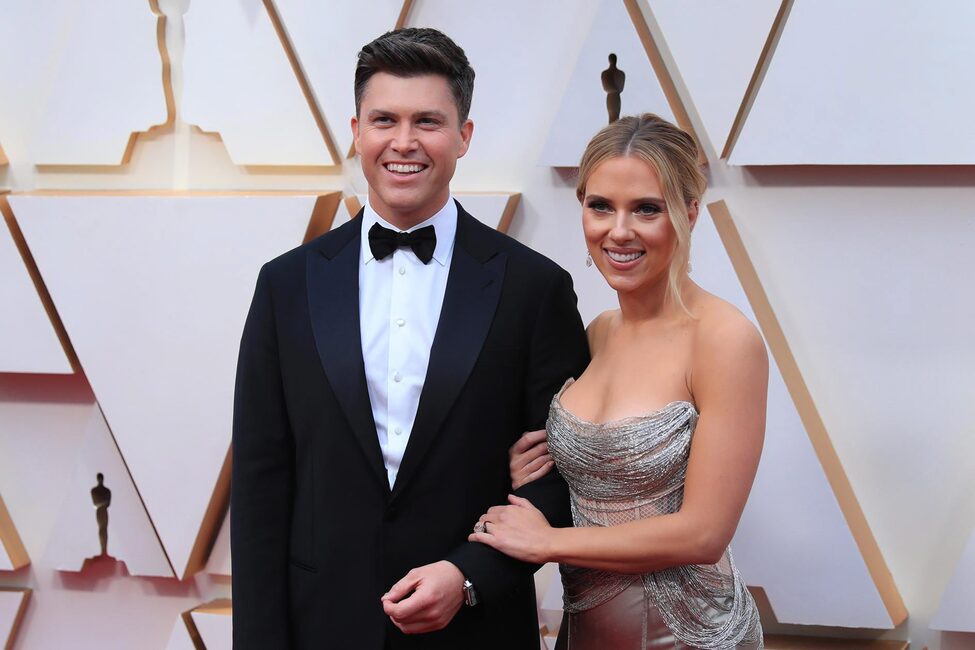 She had an affair with him always controversial Sean Penn. Then she married another actor, Ryan Reynolds, between 2008 and 2010. He repeated his marriage, the second time with a French journalist, Romain Dauriac. They were the parents of a girl, Rose Dorothy, who is now six years old. Something must have gone wrong with the couple. Scarlett surprised Dauriac by filing for a divorce. Probably because he had already found another love. What was the comedian Colin Jost. The meeting between the two happened on the television program Saturday Night Live, where Colin unleashes his "skits". Shortly after that, they started dating and were dating for two years. They got engaged in May 2019 to celebrate their wedding a few months later. Just when the pandemic emerged. They delayed the event to get married in privacy in October of last year.
Scarlett Johansson has continued to shoot movies and television series. On the Avengers was double agent Natasha Romanoff, a character she has reprized in the film Black widow, recently released. It was strange that a few weeks ago the actress did not participate in the promotion. This has led to her making sure that she is pregnant. Which neither Scarlett nor her husband have denied. Rumors that have all the semblance of reality when the alleged mother has not shown signs of life in any social event.
Share
To send
To send
Flipear
Tuiter
Share
Shake it
Pinear
Print Send
.
Many Thanks To The following Website For This Valuable Content.
Scarlett Johansson and her third husband's pregnancy